Viburnum nudum 'Winterthur',
Common Name: Witherod
Winterthur is a compact cultivar that produces fragrant white flowers that grow in clusters between April & June. The flowers provide nectar for butterflies, native bees & other pollinators. As the season transitions to later summer & fall the flowers are replaced by berries that turn color as they ripen; from light pink to a purplish-black. The leaves also change color during the fall to a maroon or dark redish-purple.
Benefits
Flowers Attract a Variety of Pollinators
Compact Plants w/Striking Clusters of Multi-Colored Berries Provide Food for Wildlife
Wine-Colored Fall Foliage
Plants Provide Nesting Sites and Cover for Native Bird Life0
Easy to Grow!
---
Viburnum alnifolium,
Common Name: Hobblebush
a disheveled shrub found in the forest understory, ravines, coves and stream banks. It grows 6 to 12 feet high and the outer branches root wherever they touch the ground. In shady, moist woodland conditions, it can also grow down a slope along the ground like a creeping vine or "steppable" herb. The white flat-topped flowers are showy in May and develop into clusters of red fruit that eventually turn purple-black.
---
Viburnum acerifolium,
Common Name: Maple-Leafed Viburnum
The Maple-Leafed Viburnum has foliage that resembles red maple leaves. It is non-aggressive and does not cast a great deal of shade. It can grow to 6 feet tall and is hardy from Zones 4-8. Features creamy white flat-topped clusters of flowers that ripen into lovely black berries. During fall the leaves give the impression of pink water colors; the fruit and shelter provide home and food to both birds and butterlies as well.
---
Viburnum trilobum
Common Name: American Cranberry Bush
Since the bright red drupes often persist through winter, these bushes make a meal for migrating birds. Fun Fact: the fruits (which are not actually cranberries) are safe for human consumption and are used mostly for making jam. The American cranberry bush is ideal for hedges and/or screening your property as they can grow to 12 feet tall and are opaque with their fullness of foliage. The fall colors yield burgandy reds and edible berries!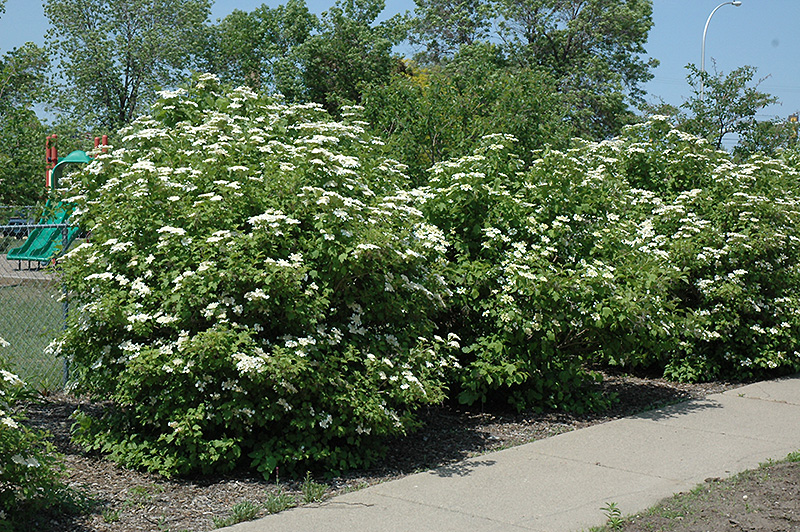 ---
Viburnum prunifolum
Common Name: Black Haw Viburnum
This variety has the stature of a small tree! Typically found in the woods from Connecticut to Florida and as far West as Michigan. The Black Haw Viburnum is also famous for being drought tolerant and can grow in just about any type of soil. Flowers bloom in May, berries emerge in late June and the foliage turns a shiny, purple-red. The berries are food to birds, squirrels, chipmunks and other friendly critters! The berries are edible for humans, but usually the birds get to them first.
---
Viburnum Berry Recipe:
8 Cups Ripe Berries
5 Cups Sugar
3 Cups Water
Juice of 2 Lemons
2 Tbsp Arrowroot Powder
---
Rinse Berries & Place in a Large Pot
Add Water & Bring to a Boil for 5 Minutes
Add Sugar, Arrowroot, & Lemon Juice & Stir Vigorously as Mixture Comes to a Boil Again
Simmer on Low for 20 Minutes, Stirring Occasionally
Remove From Heat and Allow to Cool Completely
Enjoy on toast, with pancakes, on icecream, etc!
Don't Forget to Share!